Wild as a prairie fire, solid as a sequoia, Dawn Boudreau has climbed every mountain she's ever encountered and sung from the summit. 
This started as a child, growing up in the ultra rural riverside community of Penny, with the foothills of the Rocky Mountains in her backyard and the northern Fraser River in the front. From the top of those mountains she could see the city of Prince George off in the distance, and she could also make out the dancing shapes of the music career she's been orienting ever since.  
Boudreau's first album came out in 2006. Since then she has released three more albums or EPs, gotten a formal degree in Jazz Studies, raised three children into adulthood, moved on from marriages and houses, changed cities, began exploring her Indigenous blood ties (including the crushing empathy for her grandmother's internment in residential school), and broke a few hearts along the way – not the least of which was her own a few times.
Life doesn't let you put ribbons and bows on those travails, but there's nothing stopping a dauntless singer-songwriter from putting out another album to exhibit all the evidence. 
Flings & Things is an ode to feminist reality – all the physical and emotional particulars that women in specific always have to deal with but don't always talk about. Dawn Boudreau has learned to be unafraid of painting with all of life's colours. Defying convention with inspiration is exactly what jazz was founded on in the first place. 
"My music has never been mainstream," she said. "But there are songs here that do have commercial possibilities. That's another thing I've learned along the way."
Flings & Things didn't happen in a nice, tidy flow. She disrupted her life and burgeoning career in Prince George to move to Vancouver in 2012 to obtain her degree, which she completed in 2016. She was focused, at that point, on her children's young adulthood and a new domestic partnership with noted comedian, writer, motorcycle racer and screen arts prop-builder Carter Hortie.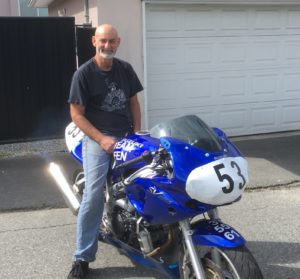 She kept her music muscles flexing by teaching a host of aspiring students, and running the ambitious annual singing competition so founded back in Prince George, Limelight Quest, which closed in 2019. 
These endeavours also flexed her maternal muscles as she passes on influence and guidance to the next generation of musicians. 
It was that instinct that took over when tragedy struck, and indirectly jolted her back into the studio. 
"I didn't know it, but my butt needed kicking, and I got it when my friend Natasha passed away far too young," Dawn said. That friend was fellow Vancouver jazz artist Natasha D'Agostino, a near and dear classmate from Capilano University. D'Agostino died in a car crash and shattered Dawn's status quo. 
"She was an amazing musician, an amazing person, and one of her clearest qualities was never sitting on her laurels," Dawn said. "She was always pursuing the next steps in her life, always working on new projects. I looked at all this music I'd written and accumulated. It was just sitting there. I suddenly realized what Natasha would have been doing with it. I booked myself into a studio and started to record what I had, and the dam just burst. So much music came flooding forward and poured out of me."
What Dawn didn't know until she got talking to the producers well into her recording sessions at Monarch Studios was that D'Agostino had planned to record her second CD in that same studio. And when Boudreau selected recording engineer David Sikula to help mix her tracks, he, too, had worked with D'Agostino on her first album. 
"When that came out, we both just stared at each other, we both had tears well up in our eyes, and both of us felt this big motivational moment," Dawn said. "When I listen to it now, it came out so beautifully, I sometimes can't believe it's mine. I'm so grateful to all the people who gave their talents and their time to make this album happen." 
They helped because the material was worthy. It is not only a fresh breath of jazz, it is also unfiltered in ways few other artists dare to be. Flings & Things is infused with parenting, broken relations, dashed hopes, aging, the female perspective of sex, all the things that would be written into a romantic comedy by Nora Ephron or Diablo Cody – you know, the kind where the female characters are actually written by a woman. 
"I've done forever twice," she sings at one point. 
"I just like to share your bed, that doesn't mean we should be wed," another lyric declares. 
And in pure thrusts of feminism, she muses "put back your whites and ivories because of your damn ovaries" and follows that up with "I'll leave you at the bar with the ugly guy and take home the hot one without saying goodbye" as she lays out the rough experiences alongside the sweet and lovely ones.  
Some of the Flings & Things content was ripped from the headlines of her own life, and some of it was fictionally stitched from the loose threads of observation. She creates a character within the album, a woman who might be your kids' favourite aunt because she's just a shade inappropriate when she swoops in for a visit, with a wild streak and a smiling hangover. There is some of her actual self in that freespirit, but the real Dawn Boudreau is too stout of character to fall into irresponsibility traps. She learned this from her pioneering family still rooted in the rivers and mountains of northern B.C. 
After all, it was her crooning cover of the Sesame Street theme that first launched her into the public consciousness. What's more apple pie that that? 
That first foray was based on her debut album Tinge of Tangerine followed two years later by the sophomore album Love, From the Piano Bar in 2008. These ventures earned her opening gigs for Juno winner Divine Brown and a twice-weekly performance residency at Prince George hotspot The Twisted Cork (then known as The Waddling Duck), among other early highlights. 
With the release of Flings & Things she reignites the comet tail that had been mostly dark these last few years, but is once again wowing new audiences and reawakening established fans. It is impossible to listen to the new material passively without visceral reaction. Hers may not be a new voice, but it is a fresh one. At the very least, Dawn Boudreau will take your blues and make them all yellow. 
~ Written by Frank Peebles